Alicia Keys is one of the producers of the romantic comedy starring Christina Milian, Jay Pharoah and Sinqua Walls.
Port Louis, Republic of Mauritius, July 02, 2021: Mauritius Tourism Promotion Authority is proud to announce that Netflix romantic comedy RESORT TO LOVE, filmed in the Republic of Mauritius will be released on July 29, 2021 on the streaming platform.
The Mauritian landscape and scenic photography will be featured throughout the film, directed by Steven Tsuchida.
Produced by internationally renowned singer Alicia Keys, Maggie Malina, and Jeremy Kipp Walker, RESORT TO LOVE stars actress, singer and songwriter Christina Milian and actors Jay Pharoah and Sinqua Walls. The cast also includes Christiani Pitts, Karen Obilom, with Jeryl Prescott Gallien, and Tymberlee Hill, Alexander Hodge, TJ Power, Sylvaine Strike, Kayne Lee Harrison.
RESORT TO LOVE is a romantic comedy about aspiring pop star Erica (Christina Milian) who ends up as the entertainment at her ex-fiancé's wedding after reluctantly taking a gig at a luxurious Mauritius island resort while in the wake of a music career meltdown. She tries to keep their past relationship a secret from his bride-to-be Beverly, but Erica rediscovers her feelings for her ex, Jason (Jay Pharoah), despite his brother Caleb's (Sinqua Walls) attempts to keep them from falling back in love. The screenplay is written by Tabi McCartney and Dana Schmalenberg.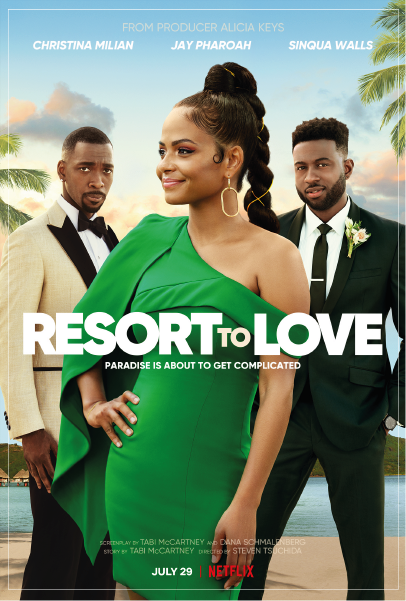 Following the movie release where Mauritius will be showcased in all its glory, the Mauritius Tourism Promotion Authority firmly believes this will lead to a boost in the tourism industry and contribute towards the generation of much-needed revenue for the country.
"We are very proud to have a thriving movie industry, which is one of the best cost-efficient promotional tools. We are looking forward to welcoming people visitors back to Mauritius in a safe and secure environment, and the film industry will certainly showcase Mauritius' natural beauty to the outside world, as well as citizens and residents of the island," said Arvind Bundhun of Mauritius Tourism Promotion Authority.
RESORT TO LOVE is the second Netflix movie filmed in the Republic of Mauritius since the beginning of the pandemic, showcasing the island's natural beauty and stunning landscapes during a time when the whole world has been forced to pause. The first Netflix feature was Spanish production A MOTHER'S LOVE.
Mauritius has been praised by international organizations such as World Health Organization (WHO) and International Monetary Fund (IMF) for its world-class response to the pandemic and the measures that were implemented quickly and decisively, controlling the spread of COVID-19.
Mauritius will be welcoming international travellers from 15 July 2021. The island will be opening in phases during 2021 and the first phase, from 15 July to 30 September 2021, will enable vaccinated travellers to enjoy a resort holiday on the island at selected "resort bubbles". Holidaymakers will be able to enjoy facilities within their chosen resort premises, including the swimming pool and beach.
A list of pre-approved Covid-19 safe resorts is available to view at www.mauritiusnow.com
For the latest statistics and data on Mauritius' COVID-19 response go to: www.covid19.mu

For more information on Mauritius visit: www.mauritiusnow.com